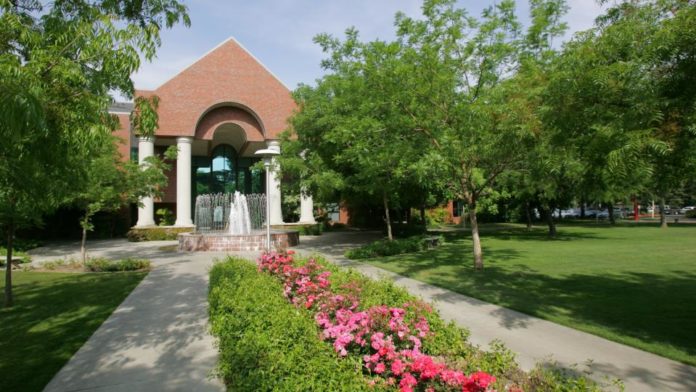 Improved outreach to area community colleges and the graduation of a record class of more than 700 students last May and are among the factors being felt in fall 2019 enrollment at Fresno Pacific University.
According to the fall census, total enrollment is 4,109 students, just under 2018's record 4,212, but above 4,000 for the third year in a row and ahead of the average of the previous five years, which is 3,813. For 2019, 1,843 students are in bachelor's degree completion programs, 1,303 are pursuing master's degrees and 963 are enrolled as traditional undergraduates. Those numbers were 1,808 for degree completion, 1,386 for graduate and 1,018 for traditional undergraduate in 2018.
FPU enrolled more transfer students in traditional undergraduate programs, an important population considering the popularity of California's extensive community college system. In all, FPU enrolled 334 new traditional undergraduate students, including 144 transfers. The average grade point average among freshmen rose to 3.61. Degree completion students also transfer in credits, usually from community colleges.
Transfer students may qualify for a two-year graduation guarantee. Mary Reitz, a senior psychology major from Visalia who studied at the College of the Sequoias, is one of those students. Fellow students, even those like her with good grades, were having trouble finding room in crowded public universities.
"It did make a difference knowing I had a guarantee," she says. "It was nice to know I wouldn't have trouble getting classes." Learn more at fresno.edu/admission/degree-completion/transfer-agreements
A four-year graduation guarantee is also available for eligible students coming to FPU directly from high school. Read more at experiencefpu.com/why-fpu
"Every student is important to FPU, and we work hard to remain accessible and welcome every population," says Jon Endicott, vice president of enrollment management. "The reality in California is that community colleges are a crucial part of the education system since so many students can begin their higher education journey at little to no cost. This is particularly the case here in the Central Valley, where we have many residents who have attended community college but are well under state and national averages for people with bachelor's degrees. Community colleges are truly our partners in educating this region."
For traditional undergraduates, the university is part of a program that creates enrollment pathways for students who earn Associate Degrees for Transfer (ADT) at community colleges. The ADT program was brokered by the California Community Colleges Chancellor's Office and the Association of Independent California Colleges and Universities (AICCU), of which FPU is a member. On its own, the university has also worked to smooth transfer from nearby community colleges and in January 2020 will begin offering degree completion business classes at Reedley College.
Fresno Pacific University is California's Central Valley's only accredited Christian university, connecting every student's untapped potential with unlimited opportunity for professional, personal and ethical growth. Nonprofit and independent, FPU offers more than 100 areas of study to about 4,000 traditional undergraduate, adult degree completion, graduate and seminary students at the main campus in Southeast Fresno and throughout the Valley at regional campuses in North Fresno, Visalia, Bakersfield and Merced as well as online.