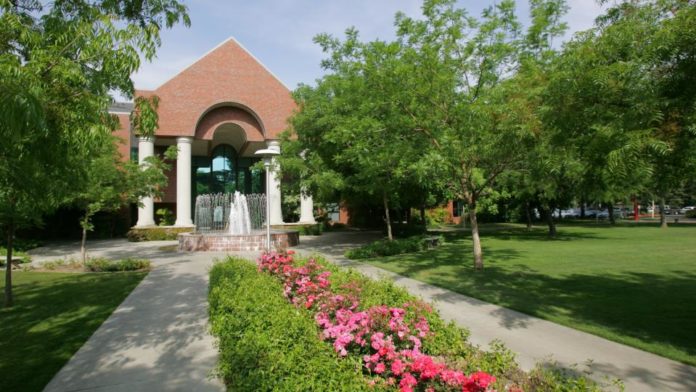 A new grant will help young adults pursue a career in ministry at Fresno Pacific University.
The Kern Family Foundation awarded FPU a four-year grant worth $551,000, to create Bridge to Ministry, an accelerated pastoral degree program for students 18 to 22 years old. Participants will earn a bachelor of arts in Christian Ministry & Leadership in three years through the university and a master of arts in Christian Ministry in two years through Fresno Pacific Biblical Seminary, saving one year over the normal progression.
"Ministers can come from anywhere, so it is important to meet students where they are in their personal lives and educational journeys to prepare them for their calling. Bridge to Ministry will be a crucial outreach," says Valerie Rempel, vice president and dean of the seminary.
The grant will provide students with scholarships, mentoring by faculty and pastoral leaders and internship experience. It will also cover a significant portion of the program director's salary for the first four years, as well as hiring a part-time recruiter and part-time administrative assistant to help manage details of the program. FPU was notified its proposal had been accepted in May, and the first distribution of funds was July 1.
Enrollment for the first class is planned for the fall of 2022.
"While a ministry degree can open doors to many careers, the Bridge to Ministry program is especially designed for those interested in serving the church as a pastor with a focus on leadership, preaching, teaching and missional engagement," says Quentin P. Kinnison, associate professor and program director in Christian ministry and leadership and chair of the Biblical & Religious Studies Division. "It will also integrate faith, work and economics into the curriculum," he says.
Work has already begun to adopt the curriculum and coordinate the areas involved.
"This is a great example of the kind of cooperation between academic areas that makes it easier for students to realize their vocational goals and aspirations," says Ron Herms, dean of the School of Humanities, Religion & Social Sciences.
Bridge to Ministry will spread the work of FPU and the seminary.
"We appreciate this chance to partner with the Kern Family Foundation to expand educational possibilities here in the Central Valley and beyond," says FPU President Joseph Jones. "Working with respected community development organizations like this promotes goals shared by both our organizations. This outreach will enhance the university's vision to empower churches in their efforts to sustain their work for the future."
Established in 1998 by Robert D. and Patricia E. Kern, founders of Generac Power Systems and based in Waukesha County, Wis., the foundation focuses on initiatives that have long-term, systemic impact. According to its website, "The Kern Family Foundation's mission is to empower the rising generation of Americans to build flourishing lives anchored in strong character, inspired by quality education, driven by an entrepreneurial mindset and guided by the desire to create value for others," (kffdn.org/).
Fresno Pacific University is California's Central Valley's only accredited Christian university, connecting every student's untapped potential with unlimited opportunity for professional, personal and ethical growth. Nonprofit and independent, FPU offers more than 100 areas of study to about 4,000 traditional undergraduate, adult degree completion, graduate and seminary students at the main campus in Southeast Fresno and throughout the Valley at regional campuses in North Fresno, Visalia, Bakersfield and Merced as well as online.