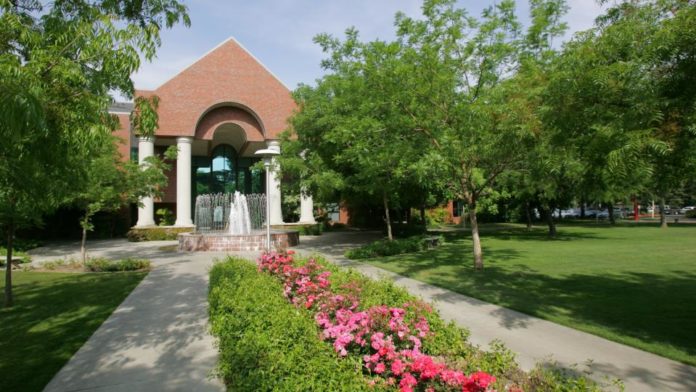 Fresno Pacific University is reshaping services, operations and academics to enhance its students' ability to thrive.
The university will no longer enroll students in 16 programs that have historically had low enrollment vs. costs, indicating lack of student interest. The 88 students affected—about 3 percent of the 2023-24 enrollment of 2,912—will be offered the classes and resources they need to complete their degrees on time.
"We are in a dynamic and complex time in higher education," says FPU President André Stephens. "A season that calls for courageous leadership to face the historic challenges and emerging opportunities before us. A season that calls us to renew our imagination and cast our vision to see the students of the Central Valley and beyond achieve their dreams. Our renewed focus must be on providing an excellent, holistic, biblically integrated education."
Decisions on which programs to suspend were informed by data and based on criteria developed in consultation with a committee of deans, faculty and staff. The FPU Board of Trustees affirmed the plan at its meetings October 27-28, 2023.
The affected programs are:
Traditional undergraduate

Arts administration
Biblical/theological studies
Chemistry B.A.
Chemistry B.S.
Graphic design
Mathematics B.A.
Mathematics B.S.
Applied mathematics
Philosophy
Political science
Pre-law
Spanish
Theater

Bachelor's degree completion

Computer information systems

Graduate/seminary

M.A. in sports administration
M.A. in theology, Old Testament
Courses in many of these areas will still be available to fulfill general education requirements and requirements in other majors.
Suspending these programs and reducing faculty in others will mean 11 faculty will end their employment with FPU in June 2024 after completing their spring semester teaching contract. These positions represent about 10 percent of FPU's 109 regular faculty members. In addition, 12 faculty positions that are either term, currently open or will become open due to retirement will not be filled. All affected faculty have been notified and students in the programs are being contacted personally.
"We realize these changes are painful and involve people who have dedicated their lives and careers to support FPU," Stephens says. "We pray for the beloved colleagues who are affected by these changes. We are forever grateful for their kingdom service at Fresno Pacific and for the enduring contributions they have made to the lives of our students and alumni."
To streamline academic procedures, FPU will consolidate its current five schools—the School of Business, the School of Education, the School of Natural Sciences, Fresno Pacific Biblical Seminary and the School of Humanities, Religion and Social Sciences—into two: a School of Arts and Sciences and a School of Graduate and Professional Studies.
Many challenges to FPU mirror those faced by other colleges and universities, including Christian institutions in California and across the United States, such as smaller numbers of traditional-aged students, increased economic insecurity felt by individuals and families, lingering effects of the pandemic and increasing doubt by some about the value vs. cost of a four-year degree. Enrollment in FPU bachelor's degree completion programs has also been affected by years of declining enrollment in California community colleges.
The academic realignment will help FPU deal with a projected deficit as well as focus on areas of student interest, including bachelor's degree completion programs in business management, liberal arts and criminology and master's degree programs in teacher education, nursing and school psychology/counseling. The university will also be able to free up resources to improve the student experience and explore new academic programs.
These changes also build on recent positive enrollment trends at FPU. After losing over 1,000 students since 2020, both traditional undergraduate and graduate enrollment rose in the fall of 2023. For traditional undergraduates—generally students 18 to 22 year of age who just graduated high school or are transferring from community college—the 10 percent increase was the first in 10 years.
"FPU continues to look for ways to innovate and plan for what is next," Stephens says. "I am convinced amidst the challenges we face that these steps move us closer to the goal of being a financially sustainable institution focused on the success of our students."
Fresno Pacific University is California's Central Valley's only accredited Christian university, connecting every student's untapped potential with unlimited opportunity for professional, personal and ethical growth. Nonprofit and independent, FPU offers more than 100 areas of study to about 4,000 traditional undergraduate, adult degree completion, graduate and seminary students at the main campus in Southeast Fresno and throughout the Valley at regional campuses in North Fresno, Visalia, Bakersfield and Merced as well as online.